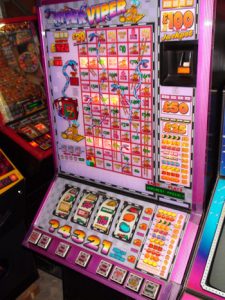 Holds – Sometimes when holds are presented and you select a reel to hold it will make a duh dur noise, in this case you should cancel the hold and spin the reels to a win.
Features
Money Bags – First cash value, 20p, flashes on the matrix.  Get three shots if  you get it then it moves onto the next value on the matrix and you get another three shots.
Nudge Pot – Collect the nudges shown in the nudge pot and manual nudge.  If you don't nudge best win then it will auto nudge.
Cash Lines – The matrix flashes a diagonal line along the cash values press to stop when it stops then you have to press it again to choose a value along that diagonal for the win amount.  You get a repeat change to pick another value on the diagonal line.
Super Steppa – Steps up through the board adding the amounts that it stops on for win total
Manic Money – Flashes through all the money values on the top board.  You have to stop the lights on an amount to win that amount.  Repeats multiple time.
Cash Stopper – flashes numbers between 1-5 stop on a number and win that number x 20p
Feature Blitz – The features on the top board flash press gamble top stop it on a feature. Play the feature and get a repeat chance.