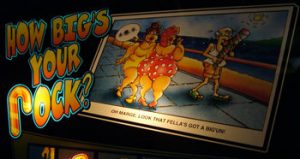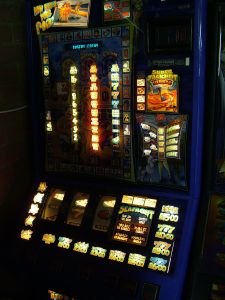 Name:
How Big is Your Rock
Technology:
Scorpion 2
Play:
10p
Jackpot:
£15
Manufacturer:
Global
Notes:
Manual
sound chip part M27C801-100F1  | B880A 9801F
Also have decals for £5, £8 and £10 Jackpot
Work to do:
 
Features
Golden Mile – Values scroll across the matrix display 3 at a time.  When you press the button the three values on the screen are totalled and that's the amount you win
Beach Party – Three amounts flash on the matrix then turn to asterix, these then shuffle.  When they stop use the hold buttons to select the highest amount.
Rock n Roll – Choose a win.  It spins a number of wins, collect the win that you think will be the highest win offered.
Go for your Melons – Choose up or down, reels rotate in that direction and for every melon on the winline an amount is added to a running total.
Mile High Club – Spins a win and option to win that amount you then get offered step or stop if you hit step it steps a reel down one and then spins in the remaining reels for a new win offer.
Grab a Big One – Money values flashes up on the matrix and you win that amount
Naughty Nudges – You get aabout 12 seconds to nudge in a win. Seafront isnt counted as a win